No.
Part # / Description
/ Price
Price
Vehicle Battery
1
2
Battery
Standard. Heavy-duty. Top Terminal. 650 CCA. Group 36R. Vendor:motorcraft. Vendor #BXT 36-R. 84 month BXT-36R.
Not For Sale
Not For Sale
Hold Down Bracket
Battery Hold Down
2011-14. 2015-17. Bracket. Battery holder. 2009-10. 2018-20. Hold down,spacer. Conventional. 2010. 2017.
Mirror Nut
Support Bracket Nut
With trailer tow, with heat, without side marker lamp. 2015-17, m6x100.
Discontinued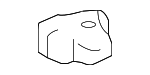 Discontinued
Not For Sale
1 This price excludes a refundable manufacturer's core charge. Add the part to your cart to see the core charge.
2 This part contains hazardous materials. Extra shipping costs apply.
Related Parts
Part # / Description
/ Price
Price
Discontinued